—Service Process —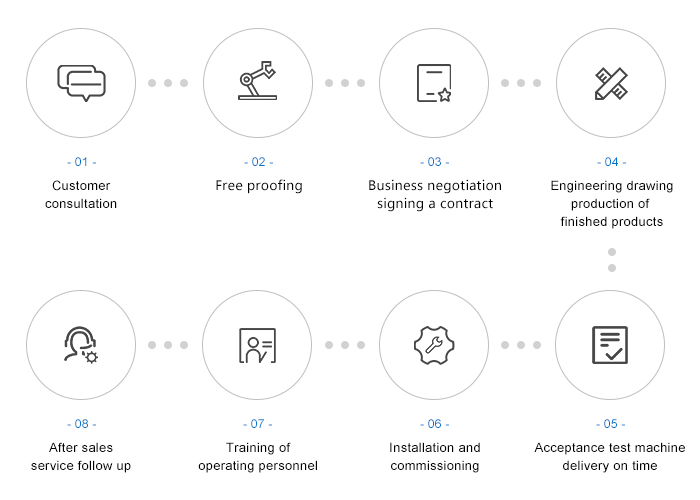 — Pre-sale service —
1. Provide technical consultation: We will provide you with professional technical and price consultation according to your needs, and mail related samples and product information to promptly respond to any questions you care about.
2. Provide inspection reception: We welcome you to visit the company on-site inspection anytime, anywhere, and provide you with any convenient conditions.
3. Help customers to proof for free.
4. Designed by the team of experienced professional engineers to meet the needs of customers with automated system solutions.
— On sale services —
1. Whether you are a foreign customer or a domestic customer, whether you are our old customer or our new friend, regardless of whether your contract amount is large or small, we will treat them with integrity, fairness, enthusiasm and rigor.
2. We guarantee the punctuality, quality and quantity to strictly implement the provisions of the contract, and provide customers with value-added services, such as installation, training and so on.
3. Assign experienced professional engineers to the customer site to provide customers with comprehensive installation, commissioning, operation demonstration, training, as a systematic service, will help improve the quality of marking, reduce accidents and improve the overall The precautions, use knowledge, maintenance common sense of the service life of the machine and accessories are explained clearly with the relevant person in charge of the customer.
4, training customers, professional one-on-one training operations. Training methods: centralized lectures, live operation demonstrations. Until the customers operator can operate the equipment correctly and skillfully.
5. Provide detailed technical information of the entire system for technical explanation.
—After-sales service —
1. From the date of purchase, you can enjoy free software upgrade for life.
2. Since the date of purchase, you can go to the company to participate in various technical trainings for free at any time.
3. Provide permanent technical support, and permanently provide spare parts.
4. The whole machine is guaranteed for one year. After the warranty period expires, if the customer encounters a problem with the machine, it can help the customer find the cause of the failure and explain the solution in detail to ensure the normal operation of the equipment.
5. If the software cannot be written and used, new products will not be marked, and other problems that cannot be solved by themselves. The technicians of Fulan Laser will respond as required and solve at any time. When necessary, we will take timely and decisive on-site services to minimize the loss of customer time.